Overview of Presentations
Call us at 503-223-4022 to request PDF versions of recent presentations.

---

Impacts to Labor Productivity in the Metal Stud Framing, Drywall,
Tape & Finishing Trades
Northwest Wall & Ceiling Bureau- Tuscon, April 2010

This presentation was an introduction of the recently completed labor productivity study for metal stud and drywall installation trades. In it we cover the background for the study, why the work was performed, what we found and how to use the study most effectively in managing framing and drywall work.
Topics include:
Purpose of the Study
Legal Issues Requiring Cause & Effects
Research Project Overview
What are the Factors that
Negatively Affect Productivity
Survey Instrument
Finding Sources for Productivity Loss
Analysis Structure
Correlation Matrix
Types of Impacts
Calculating Congestion & Fragmentation
Logistic Regression Usage

Likelihood of Loss






Productivity Study Tips
by James T Yand & Stafford Frey Cooper
---

Bidding & Taking Work in Today's Competitive Market
Northwest Wall & Ceiling Bureau- Tuscon, April 2010

The financial recession which began in 2008, poses some real threats to the financial stability of construction companies now, and when the nation climbs out of recession. We discussed some of the problems we foresee and how to avoid making commitments on projects which could come back to bite you later.
Topics include:
Overview of Current Economy & Outlook
How This Can Effect You
Bidding Mistakes
How Projects Fail and How to Avoid Problems
Elements of Contractor Failure
10 industry-wide elements of risk to potential profit or failure:
When to assess risk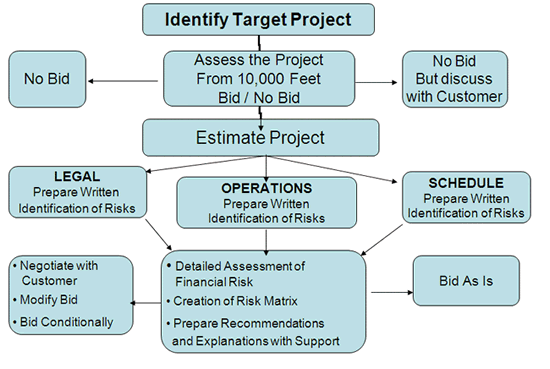 Execution of the Contract
Project Set-up, Data Collection, Documentation
Job Set-up
Account and Financial Management
Schedule and Labor Management
Schedule Management
Minimum Labor Control Functions
Ideal Document Management System
When the Job Goes Sideways
Getting Paid for Changes and Claims
Projects As Systems
Recommendations for Resolution
---

Construction Project Management in Challenging Times
Las Vegas - February, 2010

Topics include:
State of the Nation/State of Construction


Procurement of New Work


Prosecution of New (and existing) Work


Project Management
- Projects versus Processes
- Planning in the Project Management World starts with the Estimate:

Planning
Staffing
Measuring Performance
Correcting



Primer on Construction Law


Construction Law Issues:

Contract Agreement Form
Implied Warranties

Disputes:

Sources & Remedies
Handling Disputes
Documentation

Managing Subs and Owners


How/Why Projects Fail


Essentials of Contracts:

Meeting of the Minds
Parties to an Agreement
Proper Subject Matter
Consideration
Proper Form

What is a Breach?

Excuses for Delay for Nonperformance
Nature, Waiver & Remedies of Breach

Cancellation Clause in the Contract

Rescission
Substitution & Reformation
Release; Covenant not to Sue
Accord & Satisfaction
---

Comprehensive Drywall Bidding
Making Exclusions and Clarifications for Strategic Bidding, 2010

Topics include:
---



Effective Project Management and Labor Productivity in Drywall Trades
Northwest Wall & Ceiling Bureau - Annual Convention April 26, 2008
Effective Project Management: This presentation was given at the Northwest Walls & Ceiling Bureau convention in Coeur d'Alene, Idaho, and was the third in a series of project management talks we gave to the NWCB membership.

Topics include:
What is a Claim?
Red Flags and Project Risks
Management Process
Project Management
Recognizing Risk
Keys to Losing Money from Risk
Types of Construction Project Risks
Contracts are about allocating Risk between the Parties Three periods to assess ris
Execution of the Contract
Result of Pre-mobilization Review
Minimum Labor Control Functions
Ideal Document Management System
When the job goes sideways
Managing Change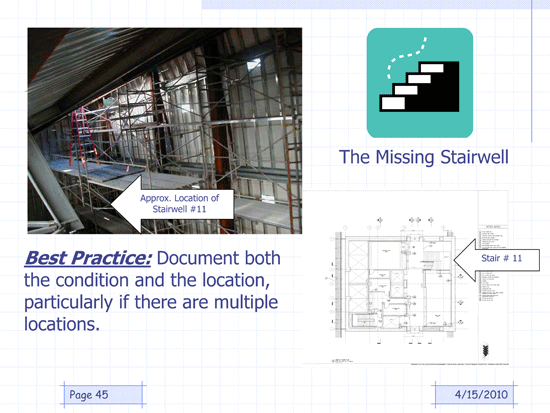 ---

Project Setup and Documentation for Mitigation of Construction Risks
and Labor Productivity in Drywall Trades
Northwest Wall & Ceiling Bureau - October 23, 2008

Topics include:
---

Service Engineering: A Case Study of Productivity Analysis
in the Construction Industry
Dr. Gerald H. Williams, Jr., Ph.D., PE & Dr. Timothy R. Anderson
INFORMS - October 14, 2008

Topics include:
Importance of the Construction Industry
Principal Tasks in Drywalling
How Contractors are Selected

Price Impacts
Distribution of Wall Framing Rates
Temperature Effect Interpretation
Finding Sources for Productivity Loss
Trade Stacking, Labor , Congestion Due to Materials and Equipment
Construction Claims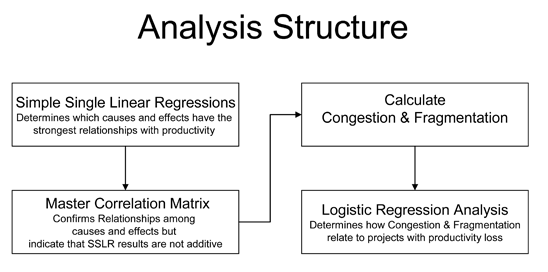 ---

Effective Project Management In Metal Stud / Drywall Construction
Northwest Wall & Ceiling Bureau - Annual Convention May 11, 2007
Project Management
• Drucker Defined Management:
– Planning (Scheduling)
– Staffing (Marshaling Resources)
– Executing (Doing the work)
– Measuring (Tracking)
– Correcting (Taking action)

Recognizing Risk
Understanding the Contract
Managing Change
Documenting work
Scheduling

Resolving Disputes
Training Program for Risk 7 Claim Mgmt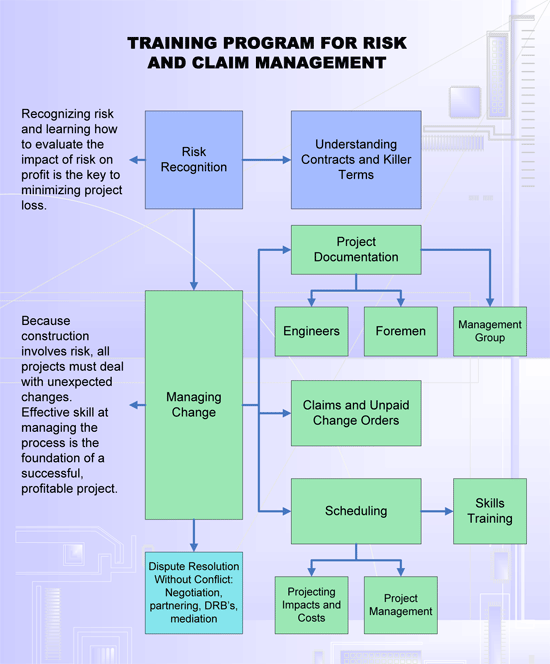 ---
Construction Procurement and Contract Management

Securing Work
- General Contractor
- Subcontractor
- Negotiated Work
- Public Bidding


Becoming Aware of New Work


Go - No Go Decisions


Obtain & Review Plans & Specifications


Contacting Subcontractors


Quantity Take-off


Preliminary Schedule


Pricing


Bidding
- Lump Sum Bids
- CM/GC Negotiated Procurements
- LS Bids

Determining the GC's Fee


Build the job - after you've been selected


Award By the Owner


Awarding to Subcontractors


Scheduling the Job


Managing Subcontracts


Managing the Project


The Change Process


Project Completion/Final Payment
---
Construction Defect Litigation
An Application of the Allocation of Fault using AHP

Case Study: Water Intrusion Defect Litigation

Case involved an apartment complex in Washington County:
711 Apartment Units

23 Buildings & Extensive Site Work

Total Cost > $30 Million

Building began in Fall of 1997

Original Completion December 1998

First mold discovered in October 1998
Project Management Issues:
Out of State Developer/Contractor
Aggressive Project Management Approach
Lowest Price Subcontractors
Little Oversight by the Project Architect
Understaffing of the Construction Management
Very Aggressive Schedule
Other Problems Identified:
Initial Results:
Mathematical Model did not Resolve the Conflict

Some Parties Settled in Mediation

Negotiations dragged on of 6-9 Months

Final Settlement Reached on the Courthouse Steps

Total Cost of Litigation Nearly Equaled the Total Settlement Amount
Analytic Hierarchy Process
AHP is an Operations Research Tool
Uses Constant Sum Pairwise Comparisons

Use of Problem Structure




Pairwise Comparisons & the Delphi Process
Conclusions Regarding AHP:
AHP is an Appropriate Tool for Allocations in Complex Environments

AHP Modeling gives Structure to Complex Problem Solving

AHP has been shown to be Robust

Inconsistency Measures help to drive Group Consensus



---
Conceptual Estimating
Portland State University, 2006

Conceptual Estimating Definition
- Conceptual Est. vs Plan and Spec Est.


Advantages of Scope Estimating
- Pitfalls of a Scope Estimate
- Forms used for a Scope Estimate


The Basic Construction Systems
- Cost of Construction System Relations
- Obtaining the Quantities within a System
- Pricing the Components within a System
- Once the Estimate is Accepted


Performing a Parametric Estimate
- Factors to Consider in a Parametric Estimate


Change Orders
- Change Order Definition
- Types of Change Orders
- Why Change Orders Cost More
- Cumulative Impact of Change Orders
- Sources of Cumulative Impact


Productivity Factor Impacts:
Factors Approach
- Schedule Compression and Acceleration
1. Overtime
2. Overmanning
3. Shift Work


Project Control Tools:
- Manpower Scheduling and Management
- How to Develop Manpower Loading
- Use of Manpower Loading for Project Control


The S-Curve field
- Early/Late Start Tree
- Project S-Curve
- Actual Versus Target S-Curves
---